What to Do with Your Phone when You're in A Car Accident
March 23, 2020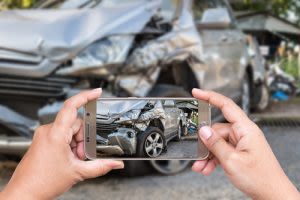 Your cell phone is one of the best tools that you have for protecting yourself in the aftermath of an automobile accident.
Your first call after a wreck should be to 911. Emergency services will dispatch the helpers that you need to treat injuries and to clear away cars and debris. However, when the police arrive, they will have multiple tasks to accomplish. Your future court case is not their priority. If you are physically able, you can protect yourself by documenting the site of the accident with your cell phone camera while the police are on their way.
Be careful while taking scene photographs, and stay alert for oncoming traffic.
First, take photographs that will help you remember. Photograph everyone present at the scene. Try to show who was driving the other vehicle if there are multiple occupants. Photograph any witnesses and where they were when located they observed the accident. Photograph identification and insurance cards to quickly record the information printed on them without stopping to write. Enter contact information into your smartphone address book.
Try to tell your story of the collision with photographs, and take pictures that refute other narratives. These photographs will help Bulman, Jones & Cook tell your story in court. Thoroughly photograph the path of both vehicles, including any signs or road markings visible to the drivers. Take photographs of the general area to record the weather, visibility, and other conditions.
Finally, document the damage to both people and vehicles. Photograph the vehicles from as many different angles as you can without endangering yourself, including crouching low to photograph damage to the underside of your car.
As you survey the wreckage, it may be immediately obvious that you will need a Montana Car Accident Attorney. It is not necessary to call Bulman, Jones & Cook from the scene.
Many injuries do not appear until hours or days after the trauma of a car accident. Take additional photographs of any wounds that appear or progress. These photographs will help your Montana Personal Injury Attorney prove that your car accident is the source of your pain.