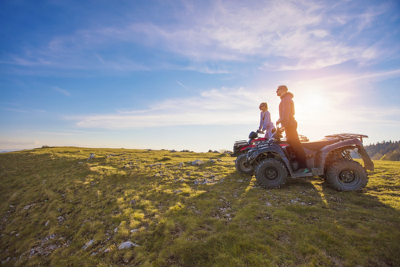 Given their speed capabilities, weight, high center of gravity and short wheelbase, just about any Montana personal injury lawyer is well aware of the fact that all-terrain vehicles (ATVs) are inherently dangerous. Some ATVs weigh up to 500 pounds, and they can reach speeds in excess of 60 mph. ATVs are commonly used for ranching, managing livestock, farming, transporting cargo and transportation in remote hunting and fishing locations. Aside from maybe a helmet, drivers and passengers are offered minimal protection in the event of a crash.
Common ATV Accident Causes and Injuries
When ATV crashes occur, they are often caused by driving too fast for conditions, driver inexperience, driving under the influence of alcohol, drugs or a combination of the two, driving on a paved road, negligent driving and driving with one or more passengers. ATV injuries are often permanent. They can include the following:
Traumatic brain injuries

Spinal cord tears

Multiple fractures and dislocations

Thoracic injuries

Organ damage

Joint damage
Liability
A skilled Montana accident lawyer from our offices will be able to determine who might be held liable for your family member's death or your injuries. As per any compensation for your losses, liability depends on how the accident occurred and the conditions of where it occurred.
Contact Bulman, Jones & Cook PLLC
Receiving compensation in these types of cases can become a complicated legal issue. You do not want to try to address those issues alone. If you were injured in an ATV accident, or if you lost a family member in one, you need an accident lawyer Montana residents can depend on. Call Bulman Jones & Cook PLLC and you can arrange for a free consultation and case evaluation. We are experienced, aggressive and successful. Contact us right away after being injured in an ATV accident. There are no legal fees unless we obtain a settlement or verdict for you.