Most Common Construction Site Hazards
March 23, 2020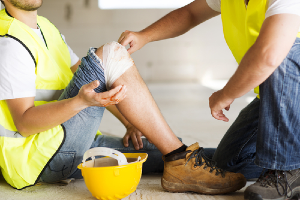 According to statistics from OSHA, more than 1,000 construction workers are killed annually on the job, accounting for 20 percent of the total number of workers killed in the private sector. Sadly, based on OSHA investigations, 60 percent of these accidents could have been prevented if workers had been given proper training and equipment. To learn more, here are four of the most common construction site hazards, as well as the laws put in place to protect workers and the types of compensation that can be sought should an accident occur.
Site Falls
Of all deaths at construction sites, one-third result from falls. Most of these occur due to misuse of ladders and scaffolding, unstable work surfaces, or lack of fall protection equipment. To prevent these accidents, many companies require installation of nets, guardrails, or restraint systems.
Hit by Objects
Responsible for 10 percent of deaths, this occurs most often due to being struck by forklifts or cranes, or from objects falling from above. Again, proper training in use of equipment can keep these accidents from happening.
Electrical Hazards
Usually involving contact with overhead power lines, lawyers for workers comp see this happen all too frequently. To keep workers safe, most states require workers to use tools that are grounded or double-insulated, and to also have ground-fault circuit interruptors in place.
Hazardous Materials
Common on construction sites, these can result in burns, respiratory illnesses, or other problems. To keep workers safe, companies are required to provide personal protective equipment, and to also have Material Safety Data Sheets on-site. If neither of these were available when your injury occurred, contact a workers compensation injury attorney immediately.
To ensure you receive the financial compensation needed to cover medical bills, lost wages, and pain and suffering, put your trust in an experienced and knowledgeable Montana workers compensation attorney from Bulman, Jones & Cook.