Injured Ziplining Through Montana Wild Life?
March 23, 2020
Dangers of Ziplining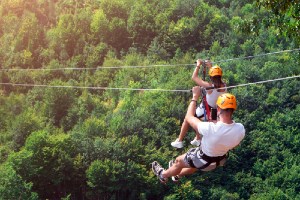 Ziplining is an activity that is popular among both tourists and residents in Montana. People enjoy ziplining through the forests and seeing all of the wildlife. Zipline is a fun activity, but it can also be dangerous. Although there are inherent risks involved with ziplining, but many people are injured due to negligence.
For example, many people are injured while they are ziplining due to faulty gear. Others are injured because the company failed to keep up with the lines. Companies are responsible for making sure that the activity is safe. That is why Montana personal injury attorneys can hold them responsible for injuries.
Ziplining Injuries Are Becoming More Common
Studies have shown that ziplining injuries have increased drastically over the past decade. Forty-five percent of the people who were injured in a ziplining accident within the past 10 years have been under the age of 10. Additionally, 11.7 percent of people had to be hospitalized due to a ziplining injury.
Common Ziplining Injuries
Most people who are hurt while ziplining suffer an injury when they collide into an object. Because the rider ziplines at a high speed, they are likely to sustain an injury if they collide into something. A fall from a height can also result in a devastating injury. Some of the most common injuries include the following.
Bruises

Fractures

Strains

Traumatic brain injuries

Sprains
You need a personal injury lawyer in Montana if you have been hurt while ziplining. Our attorneys can evaluate your case and determine whether the company can be held responsible for the injuries that you have suffered. Our Missoula personal injury attorney can help you get compensated for the pain and suffering.