How Montana Wildlife Affects the Roadway
March 23, 2020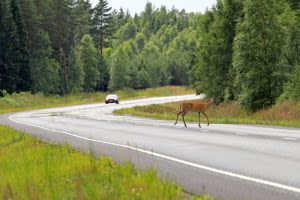 Navigating the roadways in Montana can be challenging. Drivers must share the streets with cyclists, pedestrians, and wildlife. Collisions with wildlife are common in the fall, but a collision can happen any time of year.
Staying Safe on the Roadways
Wild animals can leave the woods and stray onto highways. When animals are frightened by roaring engines, their behavior can become erratic and unpredictable. According to a recent vehicle accident report, collisions with wild animals happen every 39 minutes in the United States. The IIHS estimates that deer cause nearly 200 fatal accidents each year. Most wildlife species are active at dusk and dawn. The odds of being in an accident are higher when you are driving in rainy weather. Depending on how you handle the situation, the collision can cause severe injuries and property damage.
Protect Yourself and Your Passengers
Having a wild animal run in front of your vehicle is a terrifying experience. Drivers must decide whether to swerve or hit the animal. In most situations, the driver should not swerve. Reduce your speed and apply firm pressure to the brakes. If you swerve, you might hit another vehicle. If your car has electronic stability control, the feature can work with your anti-lock brake system. According to one study, this feature reduces the risk of rollover by 80 percent. Avoid driving in wooded areas at dusk and dawn. Scan both sides of the highway for potential wildlife. Drive slow when you are approaching wildlife crossing signs. Use your high beams to see both sides of the highway.
If you are involved in a car accident, do not move the injured animal. Contact the police and a Missoula personal injury attorney. A Montana car accident attorney can speak with your insurance company. Bulman, Jones & Cook can handle the tedious legal tasks.